Testimonials
---
Show Pony for Dogs
We often get customer enquiries asking if Show Pony can be used on dogs. I thought I would post these before and after shots of cute "Elmo" kindly sent to us by Sarah. Sarah used Show Pony Black to achieve natural tones of grey and black. Well done! He looks gorgeous!
---
Hello!
thanks for the colour leo looks alot better very shiny and such a deep colour ive attached a before and after shot for you to see :)

Harriet Holton
---
Hiya!
As discussed Please see attached a couple of recent pics of my 4 year old AP gelding 'Braylea Showtime'
I've been dying Lea with Show pony colour since 2009. Lea is registered Brown and I find using a kit makes him that bit darker and the coat always looks fantastic and shiny.
I've used other products and never got the same fantastic results!
Red Garland was Supreme Junior Derivative at the WA Arabian Trilogy in May 2012
Gold Garland was at the WA Arabian State Championships.
He went Champion Senior AP Nov 2012
Thanks so so much
And also for organising that express post for me J


Monique Morris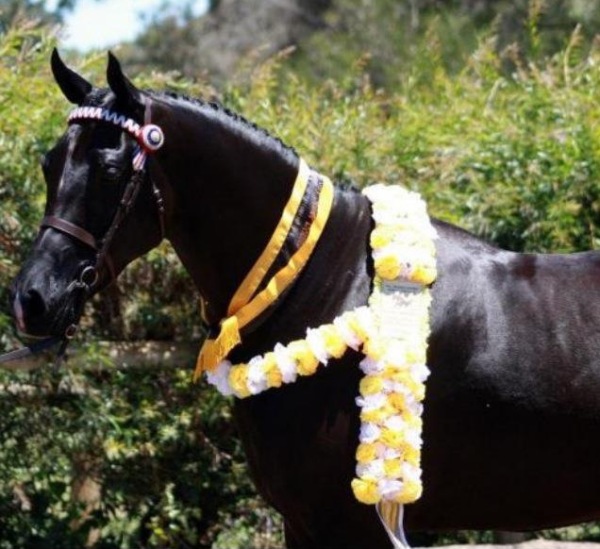 ---
Hello!
I bought a mane & tail kit from you last week and just wanted to show you the results.
Here are two photos of my youngster's heavily bleached mane and tail, and then the impressive dye job that follows.
We are both very happy with the results. Thank you Show Pony. We will be return customers for sure :


Melissa L'amour
---
Hi there,
This is the 2nd time I have used your product, I just LOVE it! My boy is a very handsome mahogany bay, but when clipped goes a not so lovely mushroom colour, the brown dye makes him look amazing and so shiny.
The before and after photos tell the story.
Love your product!

Cheers
Klara
Before shot of "Wilson" who is usually a beautiful Mahogany Bay but after clipping goes a not so lovely "mushroom colour"

After

After
---
Fantastic Result!
Amazing colour and shine using Show Pony Colour, also so impressed with the CLEAR product.. a must for those difficult colours like paints.
Mandy
Glenrowan Miniature Horses, Victoria
Before After

---
Superb Shine!
Wayne and Chris Price approached me to colour my 29 year old horse to use on the instructional DVD on their Show pony Colour website! I was truly amazed at the results! Firstly there was no irritation at all to my horse and his coat was left in amazing condition with a superb shine! I will definitely be using Show pony Colour from now on!
Rebecca
Gilston, Queensland
---
Thanks!
Thanks so much for your wonderful product! I'm sure I'll be ordering more soon!
Frankie Webb
New Zealand
Before Show Pony Colour
After Show Pony Colour
---
My Secret Weapon!
Hi, Just wanted to say "Thank you" for sending my Show Pony Colour so quickly, it is very much appreciated. I would also like to say it is the BEST product I have ever used and my horses always get comments on their wonderful coats! I have never found a product that produces such a wonderful shine! I have to say it is my secret weapon in the show ring, especially on clipped horses. Thank you so much for producing such a brilliant product!!!
Kind Regards
Jane
Queensland
---
Supreme Lead Exhibit Winner!
Here is a picture of my daughters riding pony. The before picture is the one without the big sash! The after picture is after he won Supreme Lead Exhibit at the North Queensland Games! We used the black and bay. The black was used in his tail and mane and we also ran it into his legs to give them more depth and did not have to apply half as much ravens oil! The bay gave him a more even coat colour with no lighter patches. I was impressed with the shine and softness in his coat and tail, I will continue to use these products.
Before Show Pony Colour
After Show Pony Colour
---
From Drab to Fab in under 2 hours!
Here is my ASH gelding (Magic Albert) whom every winter grows the thickest coat no matter what you do to prevent it. Each year I have clip him and doing so turns his coat from dark brown/black to a washed out dull colour. But not anymore, I used the black Show Pony colour and WOW, he went from Drab to Fab in under 2hours. So thanks for a wonderful product.
Kym Neate
936 Neurum Road
WOODFORD Q 4514
Before Show Pony Colour
After Show Pony Colour
---
He won his Gallaway Hack class!
The dye worked a treat. He came up looking fantastic! The photo shows him at a huge Interschool comp where, even though he's not wearing his ribbon, he won his Galloway Hack class from a huge field! There were 3 groups of horses in the ring from which they chose about five from each and then they put that lot back in the ring and he went on to win it! We were stoked to say the least, he looked fabulous! Very black and glossy!!! I have since been talking to another friend who just bought a black pony, I told her about your product and sent her the photos, she said "Wow" I can't believe its the same horse!" So thank-you.
Sincerely
Lou
Before Show Pony Colour
After Show Pony Colour
---
Before and After Photos of Chestnut Horse
Here is another success story for Show Pony Colour. Bronson takes out Supreme, again.
Many Thanks from a happy customer.
Angie
Before Show Pony Colour
After Show Pony Colour
After Show Pony Colour
---
Thumbs up and HUGE THANKYOU to Chris Price and Show Pony Colour Enhancement
I am so so impressed by this product - the results are amazing and these photos speak for themselves - they are advertisers here so I hope my blast is ok........ I just think a lot of people need to know about this product!
At this time of the year coats can be dodgy - a beautiful coat is coming through but sometimes just not quick enough, I think these days a lot of work, family commitments and definitely travelling to and from agistment "time" can play a big part in not quite having a long enough time to get that amazing coat through elbow grease
I came across Show Pony Colour Enhancement through Liverbird who had raved on about it and as soon as the hour after application had worn off and Dudley was rinsed you could see an amazing change in the colour of his coat
In the sun I was happy with his coat but in the shade he looked dull and not up to scratch against some of the amazing hacks out there.... I am a virgo and I am pedantic.....
When I was using Champion Tails etc I would go through a heap (even when diluted with water) and it wasn't a cheap option to achieve the rich colour Dud's turns in summer........ This option means I am getting a long lasting colour, brilliant shine and condition, I only used three units so still have 2 units left over for next time and I was lucky to get $50.00 off the cost as Dud won a ribbon
If you are feeling indulgent or with many horses buy 2 and get the 3rd free
Dealing with Chris Price was wonderful - what more could I ask awesome product and fantastic service. More businesses need to be like this!
Thanks heaps Chris
Before Show Pony Colour
After Show Pony Colour
---
The stunning effects of Show Pony – Black
Royal Show 2008
Royal Show 2008
---
The Stunning Omen
These photos were taken by Lorelle Mercer (www.lorellemercer.com.au) of this magnificent horse!  The black was applied and once again you can see the difference Show Pony Colour makes to the coat, the shine and condition are outstanding!
Before Show Pony Colour
After Show Pony Colour
After Show Pony Colour
---
She wins the open turnout and her age class!
Having been a hairdresser and now allergic to colour, I was so pleased to find a product on the market that is safe for my horse to use, and myself!There were no fumes at all, and it so easy to apply. Last season I used it and always had comments on her coat and the fantastic shine.
Before Show Pony colour, my horse was black/brown. The usual faded/burnt areas of the flank and on the shoulder just didn't give her a show ring finish.
First class of the season and she wins the open turnout and her age class, with the judge asking me after what I use on her coat. (Red is first place in New Zealand)
Thanks so much for a wonderful SAFE and easy to use product that actually does what it says it will. The fast delivery is a bonus too!!
Thanks again for being so helpful
Kind regards
L. Halpin
New Zealand
Show Pony Colour
Show Pony Colour
---
10 months and still has no signs of fading!
Hello, I would just like to let you know that I think your Show pony colour is absolutely fantastic. I used the black in my ponies tail in February this year and now in December it is still as black as can be. It has lasted 10 months and still has no signs of fading! Your colour is a great money saver as I would have used 3 or 4 human hair colours during this time, not to mention the time it takes each time it would have been dyed.
Many Thanks from a happy customer.
Judy
Before Show Pony Colour
After Show Pony Colour
---
Mahana Sweet Secret
The before photo is of Mahana Sweet Secret before showpony colour and the after photo was taken 1 week later at the Royal Easter Show 09 in Auckland where Mahana Sweet Secret and Jordan Smythe took out the NZ Pony Breeders Sash and Champion Lead Rein Pony. The photos say it all!!!
Thanks Maxine
Before Show Pony Colour

After Show Pony Colour
---
Ekka Winner!
In the before photo he had just been clipped. I most definitely couldn't take him anywhere looking like that! He got coloured on the Wednesday and then competed at the Ekka in Brisbane on Friday (& won!) I simply rave about your dye to anyone who has a horse.
It is simply the best!
Kind Regards
Tracy
Before Show Pony Colour

After Show Pony Colour
---
Supreme Small Horse Exhibit Winner!
To all at Show Pony
Hi, as per our phone call today I have attached three photos of our Small Horse Miniature.
We are so pleased with Show Pony its ease of use and of course the beautiful enhanced colour and shine that it has put on our 2y.o. Small Horse Filly SL Tegans Tellulah of Mount Eagle. She went onto to win Supreme Small Horse Exhibit at the MHAA SA Branch Championship Show 13.12.09.
We have found using Show Pony that the horses actually enjoy the process almost like a massage and while waiting for the process time a little hay to pick on, rinse shampoo and condition.
We rugged her for the show and the next day rugs removed, feet done and straight into ring, no other product needed to be used.
Thank You Show Pony
Before Show Pony Colour

After Show Pony Colour

After Show Pony Colour
---
SALISBURY ROYAL EDITION - THE GROVE RIDING PONIES
We left Dexter our R/P Colt unrugged for most of summer and when show time came in March for us we used BLACK SHOW PONY COLOUR on him as he was extremley faded in the shoulders and tail etc. WOW, AMAZING!! He went to Armidale Show a week after the colour and was awarded Supreme Runner-Up of the Show from 27 horses!
Also Champion Riding Pony, Champion Saddle Pony, Champion Part Welsh and Res Champ Part Arabian. The comments about his colour and coat condition came thick and fast We also used this fab product on our Buckskin R/P filly. We used black on her legs and tail, WHAT a DIFFERENCE! She to went to Armidale and went Champion Buckskin, Res Champ Part APSB ( beating the sr mare and gelding! ) and won all of her young stock classes under 2yrs. THIS PRODUCT IS A MUST HAVE FOR ALL SHOWIES.
Thanks for making such a FABULOUS PRODUCT available to us Chris Jo and Mark Meredith - THE GROVE RIDING PONIES NSW
---
BEAUTIFUL BUTTONS
I bought some grey dye for 'Buttons' last week, and have only just gained the courage to dye her today.Here are the before and after photos. As you can see, her tail was very brown caused by disaster after disaster. I am so pleased with the result. Thanks.

Kind regards, Tania

Before Show Pony Colour

After Show Pony Colour
---
MUDDY
I am actually embarrassed to show you!! here is Muddy, after being turned out in the paddock for 3 months without rugs on and so sunbleachd he looks buckskin, and then muddy after Show Pony!! So shiney, soft and dark! Whoever invented Show Pony needs to make some for humans- it doesnt dye the hair the one solid colour, but keeps the natural lighter patches and darkens them....i love it, and will never use anything else.

Thank you!
Elise & Muddy

Before Show Pony Colour

After Show Pony Colour
---
Maddie and Willowcroft Secret Wish
Winner Pony 12.2 – 13hh, Adelaide Royal 2010
Bess is always dyed Chocolate Brown. She always looks amazing!

---
Kolbeach Swell and Madeline
Champion Pony Adelaide Royal and Melbourne Royal 2009. Multiple HOTY winner, Multiple Royal show Winner. Champion of Champions. Sally is Dyed in Liver Chestnut when her coat has been clipped.

---
Fairlight Acres Jackson and Madeline
Multiple Royal show winner, year after year. He is only 11.2hh. He is always dyed with two chocolate to one black. Yet he went Black.

---
Silver Medal Performance China 08
Hi, I'm Sonja Johnson and this is the wonderful Ringwould Jaguar, my partner through many exciting adventures in 2008! Jaguar is a typical black/brown horse, black when it doesn't matter and a lovely pale cacky yellow/dark brown colour when it matters! I have spent lots of time and money to find a product to make Jaguar black, after a lot of searching I was introduced to Show Pony Colour.
I did a patch test with no problems and after colouring, Jaguar was the most amazing black colour! At no stage did the colour come off onto my saddle cloth or clothing and there was no suffering to Jaguar's skin, he just looked awesome! Its thanks to Show Pony Colour that I can now turn Jaguar into the black I need him whenever I want to!
Many Thanks,
Sonja Johnson
Before Show Pony Colour
After Show Pony Colour
---